Civic Theatre of Allentown
Mission
Civic Theatre of Allentown entertains, educates, and enriches lives and provides a venue for artists and audiences to explore their humanity and relevance in the world.
With the mission to inspire, enlighten and entertain the nonprofit theatre company is proud to be home to Civic Theatre School, the area's first established training program for young actors. The organization also offers year-round arthouse cinema experiences and programming, opportunities for artists, musicians, storytellers and playwrights in their black box space, THE HUB, while producing first class non-profit theatre by and for the Greater Lehigh Valley area.
---
History
1927
John Kohl and Fred McCready, two Call-Chronicle reporters, discuss the idea of starting up a "little" theatre for Allentown (as tradition would have it) over lunch in a tearoom called The Louisianne. Shortly thereafter, in the midst of the nationwide "little theatre" movement, the Civic "Little" Theatre is founded.
1927
CLT's first production, a one-act play titled Suppressed Desires, is presented in June, at Allentown's National Guard Armory. Civic has been producing theatre continuously ever since.
1928
The Nineteenth Street Theatre, which at that time had nothing to do with Civic Theatre, opens in September of this year; the first film shown is Sawdust Paradise starring Esther Ralston.
1931
The first full CLT season begins, featuring Civic's first full-length production, Daisy Mayme.
1931
Civic moves into its first real theatre, the Madison, at Thirteenth and Chew Streets, where the theatre company thrives until 1949.
1931
A Christmas Carol gets its first Civic Theatre adaptation this year. It will be several decades, though, before A Christmas Carol becomes a beloved annual tradition.
1938
Its official, CLT is incorporated, though it won't have a permanent home for another 19 years.
1944
The famous (in Civic circles) Papa Is All opens to unprecedented success, directed by Evelyn Brong Hawk. A Pennsylvania German dialect play, Papa runs for 38 performances, with another 28 in '47. The play held the record for longest-running Civic show, until the current annual production of A Christmas Carol broke it in 1996.
1947
The Madison Theater is sold, leaving CLT homeless for the time being. Temporary homes include the Lyric Theatre, Allentown High School and Muhlenberg College. A box office is set up on the main floor of the PPL building and revues such as the next year's original Strike A New Note are held to raise money for a new building.
1948
This year's production of Laff That Off is Civic's 100th mainstage show.
1951
CLT produces Daphne du Maurier's play Rebecca, and asks Allentown High School students to paint the title character as they imagined her for use in the show. Clyde T. Bishoff, then president of CLT, offers free admission to anyone named Rebecca for two of the three performances.
1956
The Civic Theatre School is founded on the principle of "giving each child the assurance of what he is capable of doing himself," in the words of the school's first director, Mrs. Ralpha Senderowitz. Civic Theatre School is still going strong today, offering a variety of classes for students in kindergarten through high school.
1957
In 1957 the City of Allentown acquired the barn near the present Rose Garden from the estate of Abe Sofronski, once an owner of the Lyric Theatre. The CLT board negotiated for a lease and set out to raise $75,000 to renovate its new permanent home. The Fund drive was going well. Bids were taken on the renovation plans – and unfortunately, the axe had fallen. The cost was going to be nearly doubled the theaters maximum figure. The home in the park was not to be.
Suddenly, that summer of 1957, Charles Hoch and the board of governors announced one day out of the blue that the 19th St. Theatre had been purchased for CLT through Mr. Hoch's largesse and the generous help of the Trexler Trust. And so on the 30th anniversary CLT moved into the building it has occupied ever since.
A grand opening happens in November with the first performance of Janus, with introductions from Charles Hoch, then Chairman of the Board of Governors, and Donald Hock, then Mayor of Allentown.
1958
Bell Labs contributes to Civic Theatre history. When the male lead in Middle of the Night is unable to perform, Bell rigs a hearing aid to a walkie-talkie, and Al Jeffers goes on without a book.
1962
Betty Muir, who had performed in numerous Civic productions at that point, earns her Actor's Equity card. The first thing Equity does is deny her permission to act in Civic's production of Under the Yum-Yum Tree. Betty would go on to act professionally for the rest of her career, and a Civic Theatre School scholarship is named in her honor. Thanks to the Muir family's continued support and commitment, the Scholarship program now provides annual scholarships to Civic Theatre School.
1963
Civic's first paid directors, John Kichline, must fill in for one of his actors during the first act of Brigadoon's opening performance, as said actor was busy sleeping.
1967
Civic Theatre celebrates its 40th anniversary with a special show on May 10th. 40 years later, Civic would decide to hold off celebrating their 80th anniversary until after the 80th season, a first for Civic anniversary celebrations.
1969
Henry McClenahan, who was growing a goatee for this year's production of The Man Who Came to Dinner, is suspended from his position as a schoolteacher for the extra facial hair. This headline-grabbing story goes on for days until his school board finally reverses the decision.
1970
Allentown's John Holmes, a professional electrician who had roles in the Civic productions of Gypsy, Becket and Oliver!, gets a role alongside Sean Connery and Richard Harris in The Molly McGuires, the film shot in Jim Thorpe about 19th century coal miners. While uncredited, Holmes had lines and a close-up in a courtroom scene featuring Harris and Connery.
1970
Civic's 200th mainstage production, Camelot, opens.
1973
A working elevator is rigged for this year's Lehigh Valley premiere production of Stephen Sondheim's Company, directed by William Fenza. When it is put to use, however, it did not go up to the roof, instead it came down.
1978
Sharon Glassman is elected president of the Board of Directors of the Civic Little Theatre, a position she held for 38 years, leading the organization to further prosperity along with a dedicated board and with her husband Dr. Barry Glassman leading the Board of Governors, who were in charge of the facilities.
1979
11-year old Laurie Miller, now known as Lara Jill Miller, plays Randolph MacAfee in Bye Bye Birdie. Lara is on Broadway the next year, and in 1981 joins the cast of the NBC television show Gimme a Break! A talented voice actress, Lara can currently be heard lending voices to numerous animated programs.
1980
Daniel Roebuck, then a 17-year old Bethlehem resident, makes his Civic debut as James Keller in The Miracle Worker. Daniel would go on to star in TV's Matlock, in addition to having roles in numerous films, including The Fugitive, River's Edge and Late Shift, the controversial film in which he starred as popular late night host Jay Leno. Mr. Roebuck currently directs and produces faith centered films in the Lehigh Valley, through his non-profit Channel of Peace, generously giving local people the experience of working on production and on screen, while balancing his busy career in Hollywood.
1987
Charles H. Hoch, known lovingly as "Mr.CLT," passes away at the age of 90. President of the Board of Governors for more than 20 years, Mr. Hoch was responsible for Civic's purchase of the Nineteenth Street Theatre and for putting Civic on firm financial ground.
Christine Taylor, then a 15-year old Civic Theatre School and Allentown central Catholic student, makes her Civic mainstage debut as Chava in Fiddler on the Roof. Taylor would go on to star as Marcia Brady in the Brady Bunch movies of the 90s, in addition to featured roles in The Wedding Singer, Zoolander, Dodgeball and TV's Friends and Seinfeld. She has been a stalwart and generous supporter of Civic for years.
1988
Civic scores a coup when Board of Governors President Barry Glassman convinces Jason Miller, a star in film The Exorcist and Pulitzer Prize winning playwright of That Championship Season, to star in Civics production of that show. One of the five actors in That Championship Season is Sam Guncler, who would go on to star on Broadway in addition to landing roles on The Sopranos and Law & Order.
1989
CLT starts showing films. Prior to 1989, second-run films were shown by an independent company who were renting the theatre. When they chose to discontinue their relationship, a call went out to the community, and the 19th Street Film Series was born. The only venue at the time in the area for international and independent films, CLT becomes a popular destination for Lehigh Valley filmgoers.
1991
The Theatre's first full-time Artistic Director, William Sanders, is hired. He is joined in 1996 by the Civic Theatre's full-time Managing Director, Scott Snyder, and in 1997 by a full-time Technical Director.
Although it had been staged a few times before at Civic, this year marks the first of what has been 33 straight years of our December production of A Christmas Carol
1994
After three years of fundraising, Civic's Shine Your Light fund-raising campaign gathers enough money to refurbish the beautiful marquee, in addition to adding the lights that currently brighten the façade at night. Two-Hundred people come to witness the lighting ceremony held before the opening night of The Secret Garden.
Civic's 300th mainstage show, a production of A Streetcar Named Desire, opens.
1996
The former Civic "Little" Theatre of Allentown officially changes its name, to become simply Civic Theatre of Allentown
1997
Civic Artistic Director William Sanders takes a hiatus to assist Joe Mantello on Neil Simon's Proposals, one of the many productions on which he works with Mr. Mantello over their decades long friendship and collaboration. Productions they worked on together, Proposals, A Man of No Importance, and the Tony-winning Love! Valour! Compassion! are all subsequently produced at Civic.
1997
Civic becomes the first community theatre in the nation to produce Angels in America, and one of the only theatres in the country to produce both parts in the same season. Tony Kushner's epic two-part play dealing with gay men in the dawn of the AIDS generation, Civic's production is met with critical and public acclaim; the play is produced again 10 years later to equal acclaim and previous the the acclaimed Broadway revival.
2002
Civic purchases a second facility at 514 N 19th Street to create additional classroom space and a black box theatre for live performances and films, and to make way in the original facility for first floor restrooms by moving the Scene Shop to a new space. .
2003
Civic Installs street-level, fully accessible restrooms in the 19th Street Theatre and a new, state-of-the-art film sound and projection system.
2003
Civic Theatre's Resident Actor/Intern Company Is established. The company performs as part of the outreach program and in mainstage productions, but, more importantly, becomes an integral part of technical and administrative operations at the theatre.
2004
Theatre 514, the new black box space across the street from the Nineteenth Street Theatre, opens for performances, on Friday, the 13th of February with Sing Happy: The Music of Kander and Ebb.
2008
Civic Celebrates its 80th anniversary in July with a three-day series of events called the Civic Spectacular. With yearly stage attendance and film memberships consistently growing, Civic looks forward to putting together the 100th anniversary celebration.
2017
After a successful capital campaign, generated by Dr. Barry and Sharon Lee Glassman and a vibrant campaign committee along with the Board of Directors and Staff, Civic Theatre closes after the annual A Christmas Carol for 9 months to renovate the first-floor interiors, auditorium and infrastructure. Productions move to Cedar Crest College under a generous partnership with the college.
2019
The theatre reopens the fabulous historically renovated 19th Street Theatre with the area premiere of the Tony-winning musical Billy Elliot to great acclaim. The renovations received recognition statewide and continue to amaze people who have not had the opportunity to come inside the doors of the hidden gem of the West End Theatre District
2021
After efficiently navigating the perils of the COVID pandemic Civic Theatre reopens and continues to create, inspire, and entertain.
2022
Civic Theatre produces the Lehigh Valley premier of The Color Purple which plays to sell out audiences.
2023
As we look toward the future... And our 100th anniversary, there is always more to be done, more people to serve, more spaces to update, more stories to share, more artists to welcome. The great work begins.
---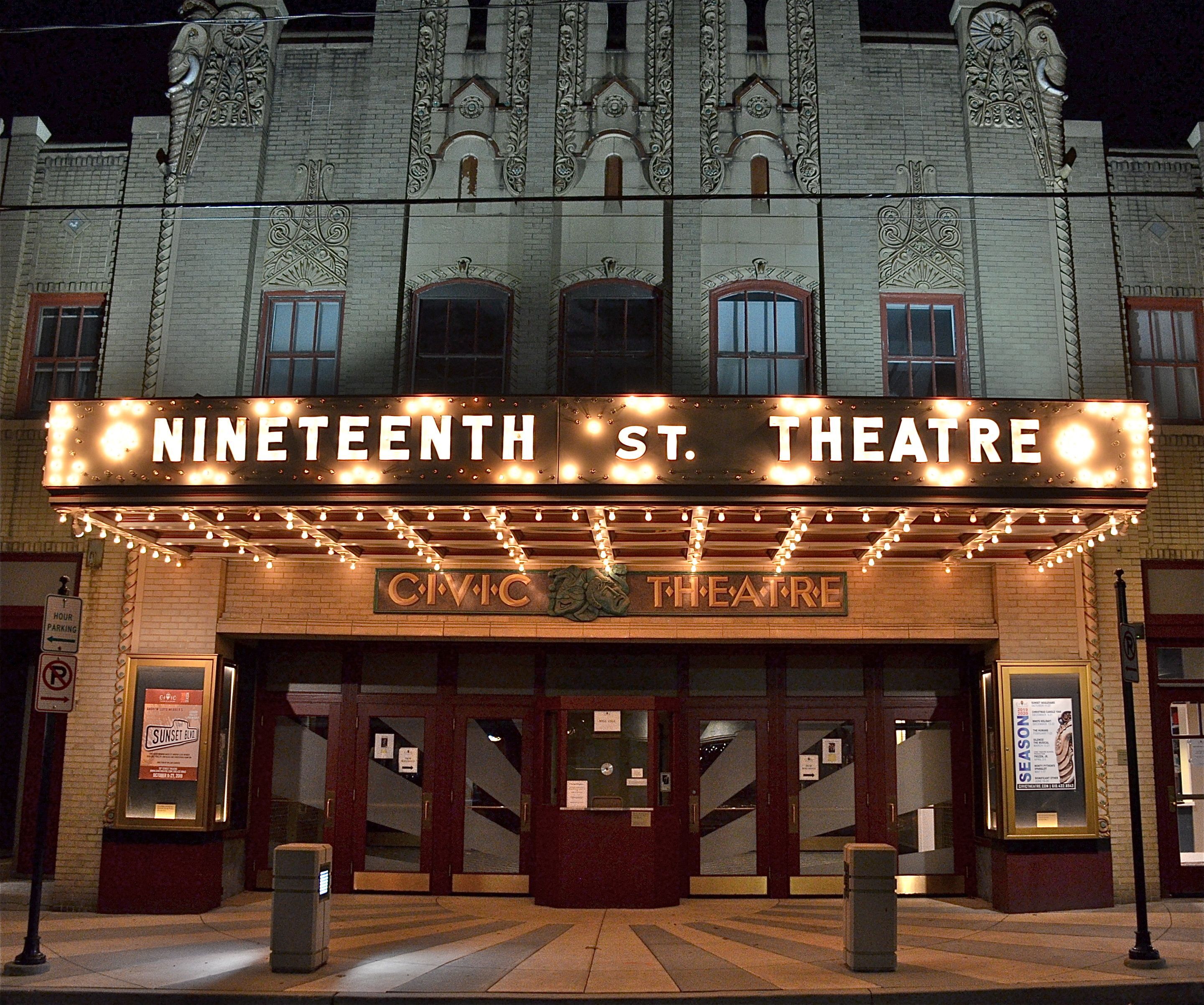 All About Pages