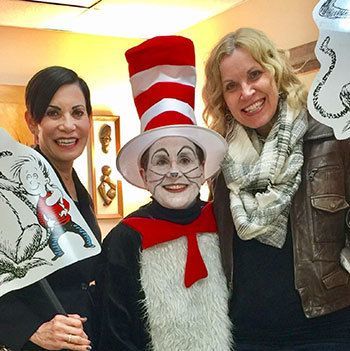 Reading with The Cat in the Hat & Friends
Reading with The Cat in the Hat & Friends is Civic Theatre's arts-infused, literacy outreach program that enhances basic K-2 curriculum. This reading and enrichment program was developed to ignite a passion for reading in local schools, youth groups, and community after-school programs that serve youth in grades K-2, a formative period during which reading can be instilled as a habit for a lifetime.
Dr. Seuss books selected for the program help teach students important life messages: The Cat in the Hat (personal safety); The Sneetches (anti-bullying); Horton Hears a Who (accept and value each person); Green Eggs and Ham (willingness to try new things), and The Lorax (environmental awareness). Using interactive teaching and the emotive techniques of theatre to encourage, inspire, and build the confidence of beginner readers and promote reading as a fun activity, a costumed character presents a dramatic reading based on Dr. Seuss's books. After the dramatic reading, discussion and age-appropriate workbook activities, including rhyming games, reinforce the student's comprehension and other skills, such as sight vocabulary and sight reading. This educational outreach program also enhances core curricular subjects, such as math and science.
Reading with The Cat in the Hat & Friends aligns with standards set by the NCTE/IRA Standards for English Language Arts. The program's focus on core language arts standards is important to its continued placement in elementary schools and is viewed by educators as a valuable interactive teaching tool. Reading with The Cat in the Hat & Friends is presented as a one-time program or a five-week series, with a different Dr. Seuss book presented each week. During the 2018-2019 school year, Reading with The Cat in the Hat & Friends program conducted over 415 classroom sessions in 13 Allentown elementary schools, thanks to the generous support of funding partners and EITC contributions.
Reading with the Cat in the Hat & Friends is available for implementation at other school districts, private schools and homeschool groups for a nominal fee.
Arts and Literacy Program contact at Civic Theatre of Allentown: JoAnn Wilchek Basist at info@civictheatre.com
Jacqueline Vogel * Principal, Shoemaker Elementary

The students at Shoemaker Elementary School were thrilled to find the "Cat in the Hat" waiting for them when they joined the Zoom call! How wonderful to have the opportunity to not only listen to one of their favorite Dr. Seuss stories, but also to enjoy a performance by one of their favorite Dr. Seuss characters.The students are still talking about it!